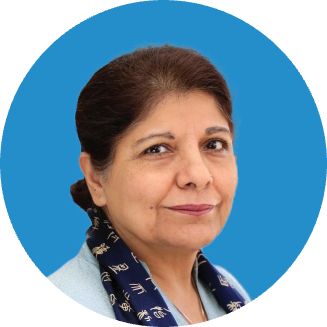 Shamshad Akhtar is a development economist and diplomat. She was the 14th Governor of the State Bank of Pakistan, Pakistan's central bank, the first woman to assume this position. She also served as Finance Minister of Pakistan, holding several economic portfolios during the last interim government.

Shamshad served as Under-Secretary-General of the United Nations and was the 10th Executive Secretary of the UN Economic and Social Commission for Asia and the Pacific, leading global work on the 2030 Sustainable Development Agenda, climate change, and financing for development. As Senior Special Economic and Finance Advisor to UN Secretary-General Ban Ki-moon, she was the UN Sherpa for the G20.
Shamshad was the World Bank's Vice President for the Middle East and North Africa Region, Director General at the Asian Development Bank, and Special Senior Advisor to the ADB President.

She was a post-doctoral Fulbright Fellow at Harvard University, holds a PhD in Economics from the University of Paisley, a Master in Development Economics from the University of Sussex, and an MSc in Economics from Quaid-i-Azam University. She serves on a few key global and regional advisory councils and boards. She was listed among the 'Ten Women to Watch in Asia' by the Wall Street Journal and received the 'Central Bank Governor of the Year in Asia' award in 2008.