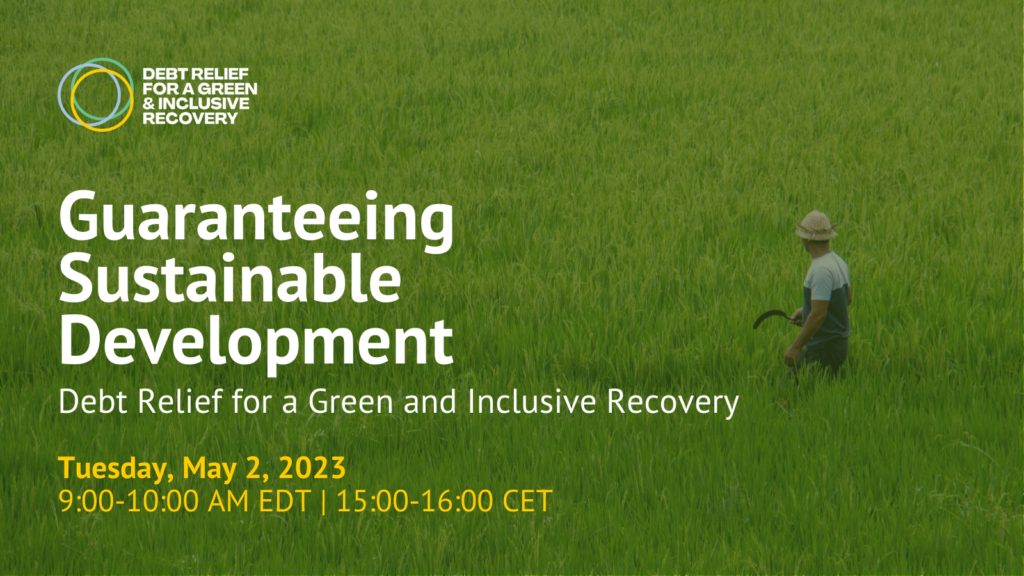 Guaranteeing Sustainable Development: Debt Relief for a Green and Inclusive Recovery
A debt crisis is emerging in the Global South at the precise moment when substantial investment is needed to meet shared climate and development goals. Yet, the G20 Common Framework has been unable to engage all creditor classes or link debt relief to climate and development.
How can emerging market and developing economies (EMDEs) find financial and fiscal stability while making the investments necessary to transition to sustainable and low-carbon economies? How does climate vulnerability impact a country's debt sustainability? What level of restructuring is required across creditor classes for debt distressed EMDEs to achieve debt sustainability? And how could the G20 Common Framework be reformed to provide debt relief for a green and inclusive recovery?
A new report by the Debt Relief for a Green and Inclusive Recovery (DRGR) Project analyzes new data on the level and composition of public and private external sovereign debt for EMDEs. The report finds that, for 61 countries identified as in or at high risk of debt distress to achieve debt sustainability, more than $812 billion in debt needs to be restructured across all creditor classes. At least $30 billion in debt should also be suspended over for the next five years for the most debt-distressed countries.
On Tuesday, May 2, the DRGR Project launched the new report in a webinar featuring experts in global development policy from around the world advancing a proposal for debt relief for a green and inclusive recovery.
The DRGR Project is a collaboration between the Boston University Global Development Policy Center, Heinrich-Böll-Stiftung and the Centre for Sustainable Finance, SOAS University of London that argues it is time for comprehensive debt reform. Utilizing rigorous research, the DRGR Project seeks to develop systemic approaches to both resolve the debt crisis and advance a just transition to a sustainable, low-carbon economy in partnership with policymakers, thought leaders and civil society around the world.
Recording of the Event:
Speakers:
Shamshad Akhtar, Former Governor of the State Bank of Pakistan and Finance Minister of Pakistan
Rishikesh Ram Bhandary, Assistant Director, Global Economic Governance Initiative, Boston University Global Development Policy Center
Kevin P. Gallagher, Professor of Global Development Policy at the Frederick S. Pardee School of Global Studies and Director of the Boston University Global Development Policy Center
Ulrich Volz, Professor of Economics and Director of the Centre for Sustainable Finance at SOAS, University of London; Senior Research Fellow at the German Institute of Development and Sustainability; and Visiting Professor at the London School of Economics and Political Science
Anzetse Were, Senior Economist at Financial Sector Deepening Kenya
Moderation: Maria Fernanda Espinosa, Former President of the UN General Assembly
Format:
Webinar